Tindo Solar 2021 Update
Hielscher Electrical is one of North Queensland's leading solar companies specialising in commercial, residential and battery solar systems.
Reputed as the go-to Cairns local solar company committed to delivering the best solar energy service, we sure deliver wonderful experiences to our customers whom we value.
As the owner of one of Cairns' most trusted solar company, I credit this sustainable growth to our uncompromised dedication to bringing clean, green solar energy to Aussies and the solid partnerships we proudly have with renowned local panel manufacturers like Tindo Solar.
Tindo Solar, an Australian solar panel manufacturer and excellent example of top-end quality Australian manufacturing, recently embarked on a decommissioning exercise of its factory in preparation to starting operations in their new Australian solar panel factory.
The term "Tindo" actually means "the Sun" in the Kaurna Warra Aboriginal language. The traditional lands of the Kaurna people encompass the Adelaide Plains region where the company's facility has its base.
The company's original solar panel plant in Mawson Lakes in north Adelaide has been manufacturing solar panels for a decade now, with thousands of panels having been produced for the local and foreign markets.
The new Australian solar panel factory adjacent to the existing facility is expected to produce twice as much the output of the old solar panel facility.
The plant is well-equipped with cutting edge M10 wafer-based (182 mm x 182 mm) solar cells ready to manufacture solar panels poised to replace the existing G1 layout (158.7 mm x 158.7 mm).
Our projections show that Tindo Solar's new Australian made 550 Watt solar panel featuring M10 technology will be among the debut solar panels rolled out from the production line.
I must say we are extremely happy with this development and we can't wait to see the company deliver on our expectations.
Last June, Tindo Solar benefited from a $1 million government grant from the Manufacturing Modernisation Fund (MMF)—a fund under the Federal Government and expected to boost the new Tindo solar panel factory.
The MMF usually invests in innovative manufacturing technologies in order to support productivity, drive economic growth and create new jobs in Australia.
The decommissioning of the existing Tindo solar facility is likely to take place any time soon. For now, it remains unclear what the future holds for the old solar facility.
Tindo Solar's Success In Australia
Despite not being a popular player in the global manufacturing market, there's no doubt that Australian Owned Tindo Solar has not only become established but also successful in the face of fierce competition and this speaks volumes about the company.
Tindo Solar boasts certain high-profiled clients in their portfolio including Wildlife Service and Queensland Parks.
Under the QPWS program, Tindo's solar panels replaced the Remote Area Power Systems (RAPS) at five National Park Ranger Bases in the 2020/21 financial year.
Tindo's modules were also selected by Dubbo Regional Council for their commercial solar panel installation on all seven facilities including the Dubbo Civic Administration building.
According to Tindo solar reviews by Hielscher Electrical's solar customers and other Australian customers who have installed the Australian solar panels, it's reliable and currently listed as one of the recommended solar panels on the Australian market.
If you're looking to invest in Australian industry and more importantly, Australian made solar panels, Tindo Solar is so far the only Australian made solar panel that I as the founder of Hielscher Electrical strongly stand behind and recommend.
Keep in mind that Tindo solar panel prices can be a little more costly compared to other overseas brands but that's expected of a locally manufactured world-class quality module.
If you need prove that Tindo solar panels can deliver excellent performance even in harsh weather conditions, click on this page to see Tindo solar power system functioning in real-world conditions at the Desert Knowledge Australia Solar Centre (DKASC) website.
The system tracks real-time performance of a 5.5kW Tindo solar system installed in 2016 using 22 x Tindo Karra 250W solar panels and 22 Enphase micro-inverters (S270 model).
Just in case you didn't know, the DKASC is situated in Alice Springs at the Desert Knowledge Precinct and acts as a test bed for various brands.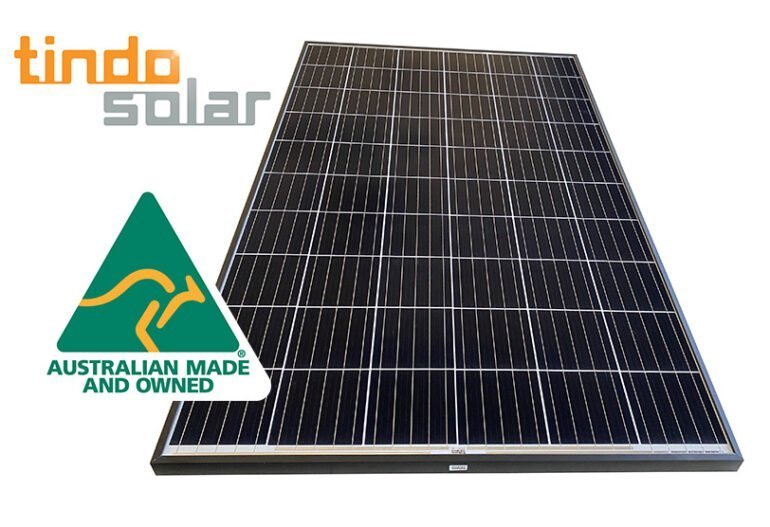 Tindo Solar Panel Models Available In Cairns
The Australian market currently has 34 Tindo solar panels duly approved by the Clean Energy Council (their name appears as Tindo Operations Co Pty Ltd) for the Small-scale Renewable Energy Scheme—a home solar rebate in Australia.
To date, Hielscher Electrical have installed well over 500 Tindo solar panels in Cairns, making up the 30 plus residential solar installations backing the Australian made solar panels by Tindo Solar.
However, the below 3 solar panel models are currently all that is available at the time of writing this article:
Tindo Karra 60 cell 330 Watt
According to my findings, only 1 Tindo Karra 60 cell solar panel is available on the Australian market.
The 330 Watts solar panel features up to 60 monocrystalline silicon cells designed using the PERC technology developed at the UNSW. The 5 busbars present on each solar cell shortens the distance between each bus bar, which in turn reduces losses during internal resistance.
The module has a good panel efficiency of 19.8%. The panel also integrates Tedlar® based backsheet which delivers top level resistance against any elements. This panel comes with a 12-year product warranty and 25-year performance warranty that guarantees at least 80% power output by the end of the 25 years.
Click to learn more about the Tindo Karra 330W solar panel
Tindo Karra 66 Cell 360 Watt
Tindo has manufactured two 66 cell solar panels; the Karra 360 Watts and Karra 365 Watts. As the names suggest, they both feature 66 silicon cells, have similar cell types and technologies as that of Tindo Karra 60 cell.
Solar panel efficiencies of 365 Watts and 360 Watts are 19.8% and 19.5% respectively, all remarkably above the current market average. The two solar modules carry a 12-year product warranty and a 25-year performance warranty which delivers 80% of the nominal output by the end of the 25 years.
Click to learn more about the Tindo Karra 360W solar panel
Tindo Karra 72 Cell 400 Watt
The Tindo Karra 72 Cell solar panel is designed to suit commercial installations as a larger module featuring a Mono-PERC cell type similar to the one above. Its panel efficiency of 20.1% comfortably supports the 400 Watt nominal power ou
The Tindo Karra 72 Cell solar panel is designed to suit commercial installations as a larger module featuring a Mono-PERC cell type similar to the one above.
Yes, Goodbye Poly Panels and Hello MONO-PERC half cell—the most advanced panels we'll be glad to offer our customers in Cairns!
With panel efficiency of 20.1%, it will comfortably support the 400 Watt nominal power output. This solar panel is integrated with the Tedlar® based backsheet similar to the one shown above to ensure long-life protection.
Click to learn more about the Tindo Karra 400W solar panel
The Ultimate Australian Made Solar System With Batteries
For the die hard Australian supporters, pair your Tindo Solar panels with the new Australian made Redback Technologies solar inverter and storage batteries.
Why Homeowners Buy Tindo Solar Panels In Cairns
The standout reason that Cairns homeowners choose to buy Tindo Solar panels in Cairns is their desire for Australian made products, Australian jobs, our economy and the dwindling manufacturing industry. Having the opportunity to contribute to the success of Australian made solar panels enables the local community to do what they do best — buy local and support local.
In addition to this, Australians are consistently confident in the quality products produced on shore and Tindo Solar panels sure do keep up with the Jones's. To compete in the Australian solar market, Tindo Solar must meet and exceed customer expectations, both authorised resellers and home owners who chose to buy Tindo Solar panels.
Tindo Solar 25 Year Extended Warranty
With a low failure rate, Tindo Solar positioned themselves to deliver an extended warranty on their solar panels. The recent increase to a 25 year product warranty for Tindo Solar authorised reseller Hielscher Electrical in Cairns solidifies the companies backing of their Australian made solar panels, manufacturing process and smart freight method.
So, what's so smart about Tindo Solar panels freight?
The way in which Tindo Solar pack and send their solar panels all the way to Cairns is both good and bad from a reseller's perspective. Unlike the traditional method where solar panels are side stacked on pallets, Tindo Solar have made an effort to protect the integrity of their product by flat stacking the solar panels on top of one another, separated with plastic spaces in-between each solar panel. It's clear that the Australian solar panel manufacturer understands Australia's territory better than most. The solar panel flat stacked method is proven to prevent solar panel damage during transport across Australia as there is much less movement during freight.
The downside to the flat stacked solar panels is on the receiving end. I for one can comfortably state that it takes longer to unpack and prepare the solar panels for installation.
Back to the Tindo Solar warranty…
The Tindo Solar product warranty includes any defects to its modules as a result of construction or transport. This does not include the 25 year performance warranty which all solar panel manufactures as per the solar industry standards. This being said, no solar panel defects should mean no lack of performance, right?
But wait, there's more!
The Tindo Solar and Hielscher Electrical partnership offers a 25 year product and replacement warranty on their PERC monocrystalline solar panels when purchased through Hielscher Electrical in Cairns, even without the standard requirement to couple with a Solar Analytics monitoring device. The small price gap that delivers guaranteed quality and service is a small price to pay considering our customers will have 25 years peace of mind after choosing to buy Tindo Solar panels.
"If our PERC Mono Modules are sold direct by Tindo or by one of our Authorised resellers, we offer a upgraded Product and Replacement Warranty of 25 Years. To the best of my knowledge, we are the only Company that insists Solar Analytics Monitoring being included on every system we sell to ensure the actual production vs the estimated production is measured and recorded to provide performance transparency and benchmarking from day one. With this data we are comfortable with the increase in warranty as we track all of our module performance."

Shayne Jaenisch – CEO of Tindo Solar
So if you want to buy Tindo Solar panels in Cairns, be sure to contact our office and speak to Tindo Solar's only authorised reseller in Cairns, North Queensland.
What Tindo Solar customers in Cairns say
By now you can see that I am a supporter of the Australian made Tindo Solar panels and there's not Hielscher Electrical customer in Cairns that will not have the option to buy Tindo Solar panels for their home.
Here's what Cairns homeowner Glen has to say!
Excellent service and great quality i recently had a 8.5 kw system 100% aussie made and owned tindo solar panels. and a fronius inverter installed on my house in kewarra beach. the team were very professional and i am very happy with the system. I highly recommend Hielscher to anyone who is looking at getting a solar system for there home or business. Glenn

Tindo Solar 5 Star Review on SolarQuotes.com
Here's how Hielscher Electricals' ratings are sitting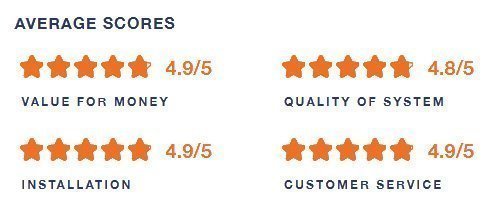 In conclusion, Tindo Solar's new Australian solar panel factory will send shockwaves through the industry. The company and its supply chain is much less exposed to negative international activity, backed by Australian government and industry, and in support of the Australian economy through home grown Aussie manufacturing.
If you've had a chance to read this article, and you are interested to find out whether to buy Tindo Solar panels for your home, be sure to mention this to me or the team to get our Tindo Solar Special Offer from Hielscher Electrical.
Be sure to follow Hielscher Electrical on Facebook, Instagram or what ever your social obsession platform is. My next article will be about the ultimate Australian made solar system, including Redback solar batteries.
Let's keep bringing quality solar products to our local Cairns community!